3-25-09
Stimulus Special Offers Big Savings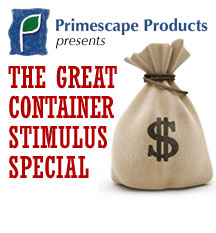 In a year where everyone else seems to be getting a bailout package, why shouldn't YOU get a slice of the pie?! Primescape can't solve the world's economic problems, but we CAN do our part for YOUR wallet!
We have a heap of containers that are either discontinued, custom-painted, or otherwise sitting idle in our inventory. You can now purchase these items at ROCK BOTTOM PRICES! Click here to launch an Excel spreadsheet with everything you need to know. First come, first served... so act fast to take advantage of this incredible opportunity!
All sales are final - no returns or refunds