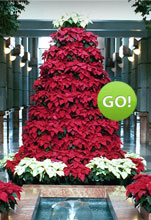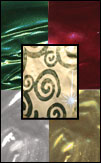 Nothing captures the warmth and charm of the holiday season like a tree made entirely of beautiful poinsettia plants! Our wide selection of sturdy frames ship complete with everything you need to capture the yuletide spirit (except for the plants). Got a small room? Try our half-diameter series and save on space!
Our frames are easily assembled, and reuseable year after year. When used with OASIS or AquaFur Capillary Wicking Discs, watering is easier than ever. Many designers rely on traditional red poinsettias, but some have achieved stellar results using white (or even a combination of the two colors).
Click on the image for more information on our entire line of holiday products (including Highland speed covers). For pricing and availability, don't hesitate to contact us.